The Effect of Moral Reasoning, Exposure to Ethics and Perceived Ethical Climate on Ethical Judgement of Auditors in Malaysia
Hasnah Haron

Ishak Ismail

Aw Lo Na
Abstract
This study examines whether perceived ethical climate of the firm, exposure to ethics and moral reasoning have an influence on the ethical judgement of auditors in Malaysia. Analysis suggests that all three factors have positive and significant influence on the ethical judgement of auditors. This study also finds that the moral reasoning of majority of the auditors in Malaysia is contained within the first and second levels of Kohlberg's moral development stage although some have also achieved the highest level. It is deduced that this is because majority of the auditors in Malaysia are more deontologists in approach rather than teleologists and that they tend to adhere to strict rules and processes. Additionally, the study finds that the level of ethical judgement among these auditors is at the average level. The findings will be useful for the government, the regulator and also audit firms which are striving to improve the ethicality of their auditors.
Keywords: Auditors, Ethical Judgement, Exposure to Ethics, Hunt-Vitell Theory, Moral Reasoning
JEL Classification: M4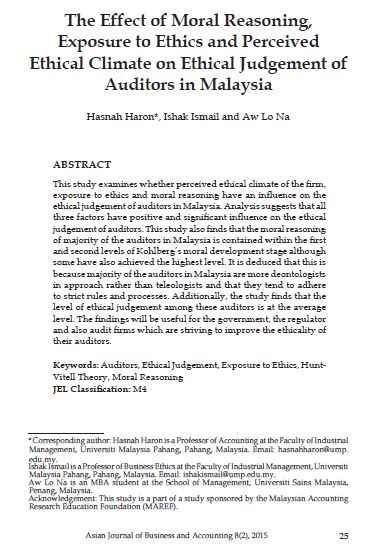 How to Cite
HARON, Hasnah; ISMAIL, Ishak; LO NA, Aw. The Effect of Moral Reasoning, Exposure to Ethics and Perceived Ethical Climate on Ethical Judgement of Auditors in Malaysia.
Asian Journal of Business and Accounting
, [S.l.], v. 8, n. 2, p. 25-66, dec. 2015. ISSN 2180-3137. Available at: <
https://ajba.um.edu.my/index.php/AJBA/article/view/2713
>. Date accessed: 28 may 2018.