A More Comprehensive Approach to Competency Development: An Exploratory Study on the Risk Management Function of Banks
Koh Eric H.Y.

Avvari V. Moran

Tan Kim Hua
Abstract
Banks face a shortage of competent risk management professionals despite this function's increasing importance. Hence, banks need a more comprehensive approach to risk management competency development. However, extant literature is inadequate because they discuss specific banking technicalities, human capital and conceptual matters rather than competency development issues in a comprehensive and granular way. This paper addresses this gap by integrating three inter-related concepts (core competencies, dynamic competencies, and learning organisation), each of which focuses on one competency development area. This is done by first, identifying the operationalised indicators through risk management context literature review; and secondly, re-affirming the indicators from the interviews with ten leading Chief Risk Officers of banks in Malaysia. The analyses re-affirm the findings from literature and reveal further indicators, each of which illustrates at least one of the concepts' variables. These findings support the proposed approach and lay important groundwork for further empirical studies in an under-researched risk management context.
Keywords: Banks, Competency Development, Risk Management
JEL Classification: G21, M10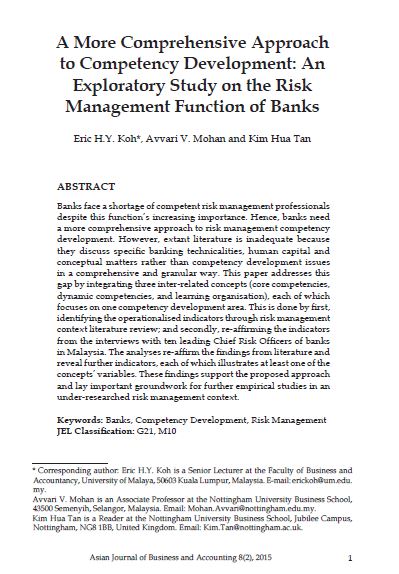 How to Cite
ERIC H.Y., Koh; MORAN, Avvari V.; KIM HUA, Tan. A More Comprehensive Approach to Competency Development: An Exploratory Study on the Risk Management Function of Banks.
Asian Journal of Business and Accounting
, [S.l.], v. 8, n. 2, p. 1-24, dec. 2015. ISSN 2180-3137. Available at: <
https://ajba.um.edu.my/index.php/AJBA/article/view/2712
>. Date accessed: 24 june 2018.